Wetality AIR
5 puffs with mint flavor
retail price: € 38.75
€ 31.00
(incl. VAT)
Product contains: 5 flavoured straws
Ingredients:
Peppermint oil, Cannabinoid, Propylenglycol,
food grade oil (a total of approximately 50mg).
988 in stock
Wetality Smartship is designed for those who would like to receive chosen products bi-monthly, every 2nd month from the day of subscription.
If you order products on Smartship in a minimum amount of 59.00€ it will also qualify you for Wetality Loyalty Program and you will be able to gain great discounts!
Buy preceding you agree to subscribe to selected products as recurring bi-monthly order. You can change or cancel your Smartship at any time under your account.
First payment: February 10, 2024
Description
Wetality AIR flavoured straws are aromatic products containing natural peppermint oil and cannabinoids. Wetality AIR straws allow tobacco-free enjoyment of air and flavour inhalation, thus energizing the body and providing lung stimulation.
You can enjoy these fresh puffs whenever and wherever you like.
Usage: For inhalation only. Press top to activate. Enjoy aromatic flavours from mouthpiece at filter end.
Precautions: Do not light.
Feel free to enjoy everywhere
Simple explanation for use of Wetality AIR/Puff's
One Wetality AIR delivers approximately 200 puffs.
Content is only consumed when the air is puffed through the Wetality AIR – in this way, it delivers a diluted form of the ingredients (eg. peppermint flavour with cannabinoid terpenes).
After activation, a Wetality AIR should not be deactivated or turned off. It should just stay activated for later reuse.
A Wetality AIR is exhausted when no more taste / noticeable effect is delivered.
How to manage!
When you activate a Wetality AIR, the flavors are released for enjoyment again and again.
Pushing the T-shaped pin downwards with a firm push activates the Wetality AIR.
You can shake the Wetality AIR a couple of times in calm horizontal movements to mix the contents optimally. This can be done both when activating and during the usage period.
Puff from the star filter point, not from the T-shaped pin point!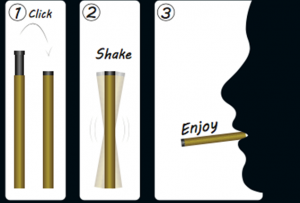 DO NOT REMOVE THE PIN!
You are now ready to enjoy your Wetality AIR.
Continue until you have reached a comfortable aromatic refreshing satisfaction.
Simple and enjoyable.
No smoke.
No heating or burning (different from an e-cigarette, cigarette, vaporizers, and nebulizers).
No tar, carbon-oxide or particles.
No risk of passive smoking.
No limitation for use of the product. Wetality AIR is not subject to restricted smoking zones.
---