Heat Balm
100 ml
retail price: € 37.50
€ 30.00
(incl. VAT)
Wetality Heat Balm
Multipurpose product and contains ingredients that provide pain-relief plus heat.
Recommended for the relief of muscular pains and stiffness including back and rheumatic pain, sciatica, fibrositis, sprains, neck and shoulder tension, poor blood circulation and chilblains.
4298 in stock
Wetality Smartship is designed for those who would like to receive chosen products bi-monthly, every 2nd month from the day of subscription.
If you order products on Smartship in a minimum amount of 59.00€ it will also qualify you for Wetality Loyalty Program and you will be able to gain great discounts!
Buy preceding you agree to subscribe to selected products as recurring bi-monthly order. You can change or cancel your Smartship at any time under your account.
First payment: December 10, 2022
Description
2 minutes after applying the heat balm you will feel the warmth and increased blood circulation.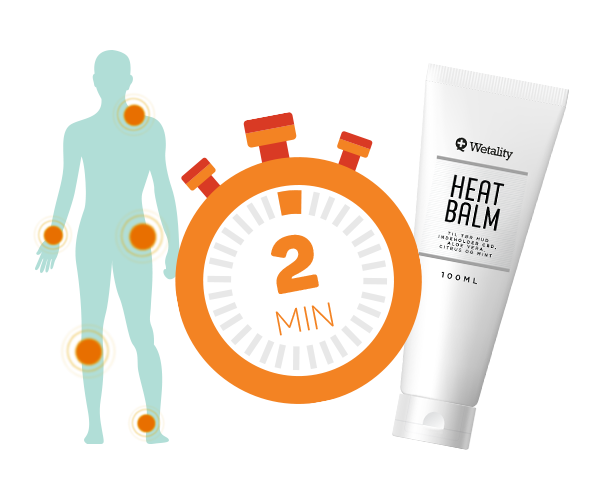 Wetality Heat Balm can be used for all skin types and contains:
• CBD – it is an antioxidant, anti-seborrhoeic (prevents over-activity of the sebaceous glands), a skin-conditioning and skin-protecting compound. CBD also has an emollient effect.
• Aloe Barbadensis Leaf Juice – Organic Aloe Vera that has nourishing and moisturizing properties. This plant, which carries the status of superstar, contains an impressive number of vitamins, including A, B1, B2, B3, B5, B6, B12, C, E, Choline and Folic Acid. Aloe Barbadensis leaf juice can soothe skin and serve as an anti-inflammatory. It can be efficiently used topically, because of its burn healing effects, scar reducing and wounds healing properties. Aloe protects the skin from UV damage.
• Argania Spinosa Kernel Oil – Argan oil that has nourishing and moisturizing properties. Argan oil comes from the kernel of the argan fruit that comes from the argan tree that grows only in Morocco.
• Butyrospermum Parkii Butter – Oil made from vegetable fats (Shea butter) extracted from the Shea tree nuts that soften and moisturize the skin so it remains elastic and supple and does not dry out.
• Pyrus Malus Fruit Water – Natural apple water that has nurturing properties. Apple fruit water furthermore stimulates the growth of keratin in the outer layers of the skin, thereby strengthening the skin's ability to retain moisture and protect it from outside damage.
• Calendula Officinalis Flower Extract – Marigold extract that has soothing and moisturizing properties.
• Avena Sativa Kernel Extract – Organic oat germ that has soothing and nurturing properties.
Heat Balm Ingredients:
Aqua, Glyceryl Stearate, Aloe Barbadensis Leaf Juice, Butyrospermum Parkii Butter,
Cetearyl Alcohol, Cetearyl Glucoside, Argania Spinosa Kernel Oil, Cannabidiol,
Cannabis Sativa Leaf Extract, Avena Sativa Kernel Extract, Methyl Salicylate,
Phenoxyethanol, Pyrus Malus Fruit Water, Mentha Arvensis Leaf Oil, Eucalyptus
Globulus Leaf Extract, Sodium Cetearyl Sulfate, Xanthan Gum, Benzoic Acid, Citral,
Dehydroacetic Acid, Sodium Hydroxide, Parfum, Limonene, Geraniol, Linalool,
Potassium Sorbate, Sorbic Acid.
Application: Apply a thin layer to the skin. It can be used for all skin types.
Recommended storage: Room temperature.
Precautions: In case of eye contact or skin irritation, rinse immediately with water.
Notes: There may be small dark spots in the cream that these originate from Cannabis oil.
---