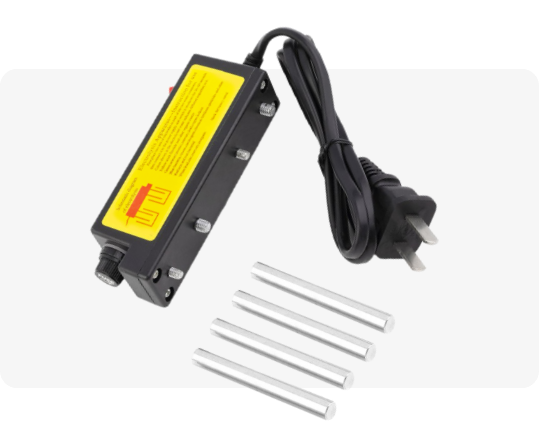 Electrolyzer
This product enables cheap and easy testing of drinking water quality.
Material: ABS+ aluminum iron
Size (Approx.): body length: 10.7 x 9.7 x 6cm / 4.21 x 3.82 x 1.02in
Power cable length: 80 cm / 31.50in
Iron bar length: 7 cm / 2.8 cm (2.76 x 1.10in)
Measuring range: 50 to 200 mg/L
Rated voltage: 220V / 50Hz
Application: household drinking water, water purifie.
BUY
It provides a very quick & convenient alternative to conventional testing papers and liquid test kits. No more chemical testing and solutions needed.
This instrument has positive and negative two-electrode rods (one is an iron rod and the other is an aluminum rod) - two electrodes introduced as an electric field.
Under the action of current, the positive valence Fe3+ ions are dissolved, and they will combine with the negative OH- ions in the water to form water-insoluble Fe(OH)3 particles, which are colloidal particles in the water.
Simple and easy to operate.
Get results instantly.
No chemical testing and solutions needed.
Usage method:

Prepare to test the water - take two glasses with a capacity of 100-150 ml, one for tap water, the other for purified water, and put them on the table.
Prepare for testing - put the electrolyzer on the glass and plug in the 220 volt power supply.
Test - start the test by pushing the power switch button to the ON (open) position. The usual inspection time is 30 seconds.
When finished, switch the power switch to OFF (off) position and finally take out the electrolyzer.
Packing list:

1 x electrolyzer body
2 x aluminum rod
2 x iron rod
Attention:
1. After the power supply is switched on, hands should not be held on the electrode.
2. Fingers should not be put into the test water.
3. Children should not be allowed to have access to the electrolyte.
Dry cloth should be used to dry the electrode after the electrolyzer has been used and the water on the iron pole should be wiped off with spinning cloth.
Keep the electrolyzer and its parts properly stored away from children access and in dry place.