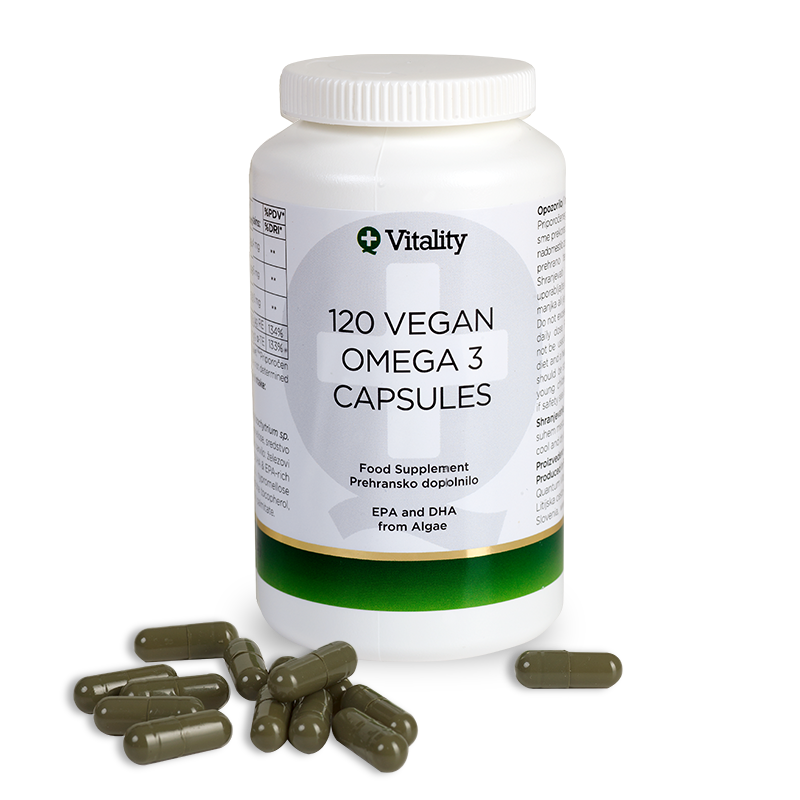 Our search for safe and pure Omega-3 fatty acids took us to the only possible source – ALGAE.
What are Omega-3 Fatty Acids?
The Omega-3s get their name from their chemical structure: Like all organic molecules, these fats are made up of long chains of carbon atoms. Omega-3 fatty acids protect against heart diseases and they are beneficial for brain and eyes. They are also important for a number of body functions, including muscle activity, blood clotting, digestion, fertility, and cell division and growth. However, our body can't make them from scratch, we must get them from foods rich in Omega-3 essential fatty acids.
EPA and DHA
There are two crucial types – EPA and DHA, which are mostly found in seafood. For decades, researchers have examined different roles of EPA and DHA in the body. It is important to take both of them because they act jointly.
Along with EPA, DHA has a role in normal concentrations of triglycerides, vision, and brain function. It is especially important for children's growth and development, CNS and retina development during a prenatal phase. Women should emphasize DHA intake during pregnancy and breastfeeding. DHA is also essential to older people for preserving from dementia.
EPA is essential fatty acid effective for supporting cognitive function. EPA also protects our genes and cell cycle. This fatty acid helps to keep our stress response regulated.
An adequate supply of EPA throughout adult life can help prevent a range of chronic illness.
There is also a recommended ratio between Omega-3 and Omega-6 in your body. This balance between two types of fats is essential for human health. However, we tend to consume far too many omega-6 fats in our diet. 
Supplying you with Omega-3s & detoxifying the body.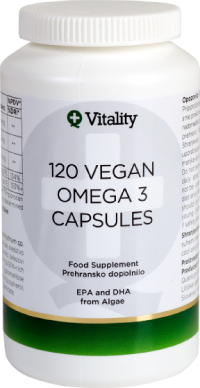 The microalgae are excellent, pollutant-free source of the Omega-3 fatty acids.  Moreover, certain researches show that sea algae can act as detoxifiers.
We added vitamins A and E vital for your health and made a food supplement of supreme quality.
Why use Vitality Omega3?
Most of these essential fatty acids come from fish. However, since fish are relatively situated at the top of the aquatic food chain, they can accumulate heavy metals, industrial toxins, and pollutants from food, water, and sediments (mercury, lead, arsenic, cadmium, PCBs and radioactive poisons). The content of toxic heavy metals in fish can counteract their beneficial effects and even cause severe consequences.
Adverse effects of heavy metals on human health have been known for a long time. This may include serious threats of renal failure, liver damage, cardiovascular diseases and even death. The content of heavy metals discovered in some fish makes it difficult to establish clearly the role of fish consumption on a healthy diet. Studies on the concentrations of heavy metals (Hg, Cu, Zn, Pb, Cd, Fe and Mn) measured in the liver, gills, and muscles of benthic and pelagic fish species collected, suggest we should retrieve Omegas from another source.
Back to the pollutant-free source
Fish cannot make their own Omega-3s but have to obtain them from algae. Therefore, we decided to leave out fish and go directly to the source. The microalgae are not only an excellent source of the Omega-3 fatty acids EPA (eicosapentaenoic acid) and DHA (docosahexaenoic acid) responsible for normal blood concentrations of triglycerides, normal vision, and brain function, – they are also known to be able to accumulate heavy metals from the environment and the organism (bioaccumulation). Microalgae are able to eliminate heavy metal ions in a short time by biosorption, without any toxicity problems.
In the human body, their molecules attract and bond heavy metals, changing their structure and making them non-toxic. It is a promising process of biological removal of pollutants which are a threat to a human health.
Environmentally friendly
It's rather important that obtaining Omega-3s for our product doesn't increase fishery and doesn't disturb aquatic population dynamics or biomass. We care about limiting the consumption of fish and as a naturally conscious company. We're happy to present the product that doesn't endanger animal species and their ecosystem.
Why should we catch fish to produce fish oil that can be polluted, if we can obtain safe Omega-3 rich oil from algae that fish eat?
If you are vegan or vegetarian
Main Omega-3 fatty acids in a vegan diet are alpha-linolenic acid (ALA), which is derived from foods such as soybeans, linseed, and nuts. ALA is converted in small quantities and inefficiently into the long-chain Omega-3 fatty acids docosahexaenoic acid (DHA) and eicosapentaenoic acid (EPA). Several studies have demonstrated that vegetarians and vegans have much lower plasma concentrations of DHA and EPA when compared to those who eat fish or take Omega-3 supplements. Supplementation with ALA increases plasma EPA to a small extent, but it has little effect on DHA. Even though study results have various conclusions, it is possible that low Omega-3 status does place vegetarians/vegans at increased risk for cardiovascular disease, also having an unfavorable effect on vision and normal brain function.
High quality, efficiency, and safety
Clinical trials with algae DHA and EPA oil found comparable efficiencies to fish oil, for protection from cardiovascular risk factors, by lowering plasma triglycerides and oxidative stress.
Vitality Omega3 capsules with high content of DHA and EPA is safe and suitable for vegans and vegetarians. Besides being the ideal nutritional supplement of Omega-3 essential fatty acids, Vitality Omega3 doesn't contain toxins or heavy metal residues from fish, moreover – it removes pollutants from the body. It provides necessary supplements, releasing your body from all potentially harmful substances.
HEALTH BENEFITS LINKED TO OMEGA 3 BY RESEARCH
*The European Food Safety Authority (EFSA) has approved health claims on omega-3 fatty acids.